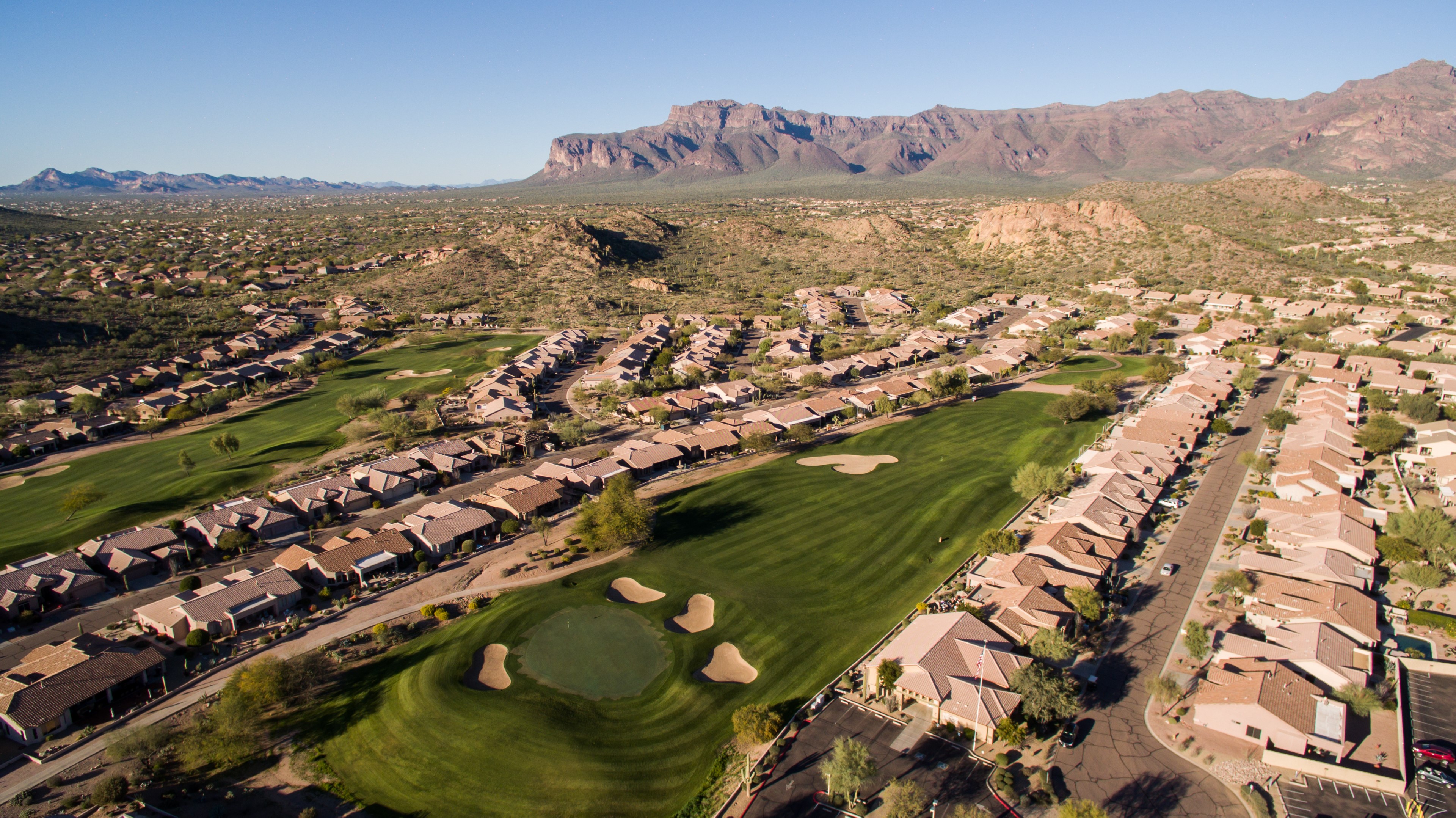 Gold Canyon, Arizona (85118 Zip Code)
Gold Canyon is a beautiful, unincorporated community located in Pinal County, Arizona at the foothills of the legendary, world famous Superstition Mountains. Without question, Gold Canyon offers an ideal, scenic location and a peaceful desert serenity that is second to none. Gold Canyon is surrounded by splendid desert wilderness with amazing sunsets, diverse wildlife, and spectacular views. Located on the eastern edge of the Phoenix metropolitan area, Gold Canyon is approximately 45 minutes from Phoenix Sky Harbor International Airport, 25 minutes from Phoenix-Mesa Gateway Airport, and within 30 to 40 minutes of Scottsdale, Mesa, Gilbert, Chandler, and Tempe; thus, Gold Canyon is just beyond the reach of the city but yet in close proximity to some of the best shopping, dining, and entertainment available in the Valley of the Sun. Gold Canyon residents enjoy abundant outdoor recreation opportunities, including top rated golf, hiking, biking, horseback riding, camping, photography, etc.
Per the United States Census Bureau, the 2010 census indicated the following for Gold Canyon, Arizona: 22.39 square mile area, 10,159 population, and 6,874 housing units. Gold Canyon businesses and services include banks, medical care (urgent care and healthcare providers), sheriff's office, fire station, restaurants, grocery store, coffee shops, gas station, churches, schools, lodging, car washes, and other businesses/services. Also, Gold Canyon is within 5 miles of the Arizona Renaissance Festival. In addition, numerous major retail stores, restaurants, and other services are located within 10 minutes of Gold Canyon, Arizona.
In regards to home construction, Gold Canyon, Arizona is a relatively new community as a majority of Gold Canyon homes have been built from the 90's to the present. A number of resort style subdivisions exist in Gold Canyon, with home prices ranging from the high $100's to $2+million. For anyone considering purchasing real estate in Gold Canyon, a wide variety of options exist, including townhomes, tract homes, custom homes/homesites, private gated communities, and more. In terms of average resale price, the top 3 most expensive subdivisions in Gold Canyon are as follows: (1) Superstition Mountain Golf and Country Club, (2) Vista Del Corazon, and (3) El Mirador at Superstition Mountain.
Gold Canyon Golf
Superstition Mountain Golf and Country Club: Superstition Mountain Golf and Country Club is a guard gated, private club with two Jack Nicklaus designed golf courses, the Prospector Golf Course and the Lost Gold Golf Course.
Gold Canyon Golf Resort & Spa: Gold Canyon Golf Resort offers two championship golf courses, the Dinosaur Mountain Golf Course and the Sidewinder Golf Course.
MountainBrook Golf Club: MountainBrook Golf Club offers a golf course and a 12 acre practice facility, including a short game practice area designed by Phil Mickelson.